Angel Robotics is a Korean startup company that focuses on wearable robots for rehabilitation, Their Exoskeleton is competition proven.
A Next Step in Wearable Robotics
Article from | maxon group
At the global Cybathlon event in November 2020, the team from South Korea was able to win the gold medal, as well as the bronze medal in the powered exoskeleton race. Contestants Byeonguk Kim and Juhyeon Lee crossed the finish line in 3 minutes 47 seconds and 5 minutes 51 seconds respectively and became the heroes of the event.
Notably, they were both from the Angel Robotics team. Angel Robotics had provided the two medalists with both material and moral support in keeping with the slogan "Robotics for better life". Angel Robotics is a startup company founded in 2017 by Professor Kyoungchul Kong from the Mechanical Engineering department at the Korea Advanced Institute of Science and Technology (KAIST). The company focuses on wearable robots for rehabilitation and health care.
At the first Cybathlon, Angel Robotics also won the bronze medal in an exoskeleton race using a maxon motor. The WalkON Suit used in the competition is a robot for people with complete paralysis of the lower extremities. For the second event, Angel Robotics' main focus was on considerably reducing the weight perceived by the user to allow them to stand for extended periods while wearing the robot. The company also made sure that it was possible to cover a distance of at least 40 meters when continuously walking for 1 minute, and improved the suit to match the normal able-bodied walking speed of about 2 - 4 km/h. To date this is the fastest speed reported worldwide for people paralyzed from the waist down. The maxon EC 22 motor and the ESCON Module 50/8 are used in the linear actuator of the robot's ankle and help to implement a smooth and natural movement for walking and overcoming obstacles.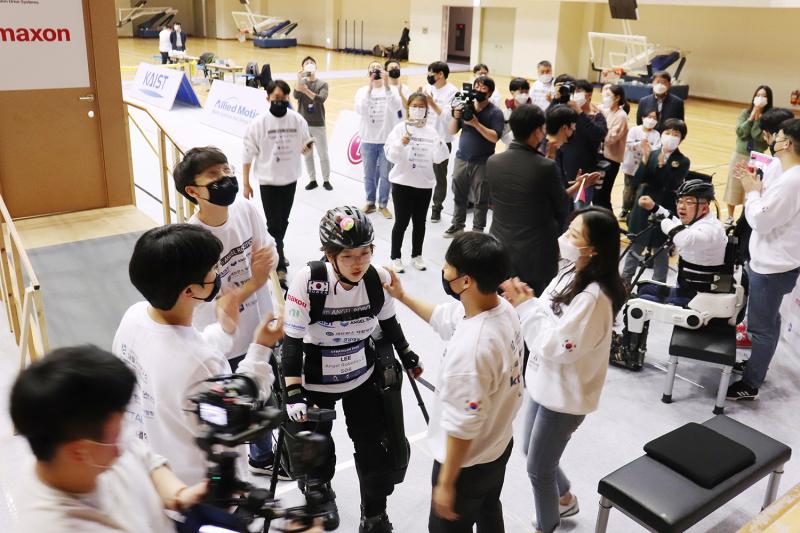 Team Angel Robotics won the Gold and Bronze medals in the powered exoskeleton race of the Cybathlon 2020.
Byeonguk Kim won Gold at the Cybathlon 2020.
The company has also developed other robots like the Angel Suit robotic walking aid designed to assist people with partial paralysis or the elderly with weak muscular strength. There also is Angel Legs M, a robotic medical rehabilitation device used in hospitals for rehabilitation treatment and training.
Angel Legs M is a robot for people with partial paralysis of the lower extremities who have problems walking. Sensors in the robot analyze the user's movement and, when the need for support is detected, the robot provides appropriate strength. When the user lifts their leg, the weight of the leg is reduced, and when the foot touches the ground, supporting force is provided. The maxon EC 45 flat motor, MILE encoder, and the ESCON Module 50/8 controller implement the robot's hip joint and knee joint movement and are used to provide smooth and precise supporting strength.
Angel Robotic's senior researcher Byunghun Na (R&D team) had the following to say about maxon: "When it comes to wearable robots, the weight and size of the motor are very important considerations. The output is important, too, but in order to minimize the load on a user who may have limited strength and to make it easier to get in and out of the suit and to create an acceptable robot design, the motor drive has to be as light and small as possible. Among BLDC motors for various purposes, maxon motors are light and small for their output and highly efficient. They are suitable for robots that are sensitive to size and weight. maxon has different kinds of motor groups and it is easy to choose a motor for the desired output. Since the stability and inner structure are excellent, we are able to increase user confidence in rehabilitation robots.
Given social factors like the growing elderly population, wearable robots are set to become an essential robot technology for all of mankind, not only for the disabled. To achieve this, maxon is taking the lead in continuous product development and technological enhancement in service of a better life for everyone.
The content & opinions in this article are the 's and do not necessarily represent the views of RoboticsTomorrow
maxon group
maxon is a leading supplier of high-precision DC brush and brushless servo motors and drives. These motors range in size from 4 - 90 mm and are available up to 500 watts. We combine electric motors, gears and DC motor controls into high-precision, intelligent drive systems that can be custom-made to fit the specific needs of customer applications.
Other Articles
They move like snakes and reach places that are too narrow or dangerous for humans. The robust robotic arms of the Tokyo-based company HiBot take inspection, maintenance and repair to new levels.
Where there is e-commerce, there is inevitably logistics management. After all, what could be more efficient than a network-connected fleet of AGVs to travel around huge warehouses and find the required product in record time?
Can loads be positioned dynamically, with high precision and no oscillation, despite mechanical backlash and elastic components? Yes — using an intelligent system.
---
Comments (0)
This post does not have any comments. Be the first to leave a comment below.
---
Post A Comment
You must be logged in before you can post a comment. Login now.
Featured Product
Quest is a leading manufacturer of industrial automation equipment focusing on robotics and vision-guidance. With expertise in the food, beverage, and dairy, Quest optimizes floor space for customers experiencing growing demand and helps improve their overall production line flexibility and efficiency. Quest offers application-specific software on their robotic products, including pick and place, case packing, and palletizing systems to simplify system setup and streamline configurability. Quest is a product brand of ProMach, a global leader in packaging line solutions.